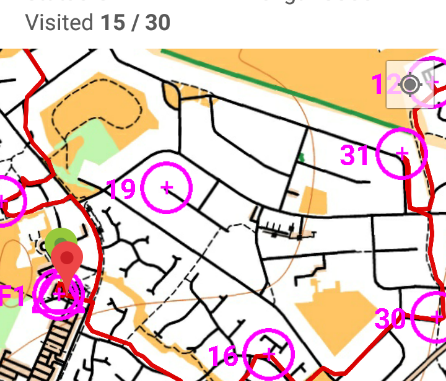 Ian and Maggie Jones, longstanding members of NGOC even in their Antipodean days, have recently returned from Australia, bringing with them lots of ideas and initiatives from their orienteering activities down under. One of these is MapRun, a simple phone app which allows you to create and manage orienteering courses with minimal effort, no ground infrastructure etc that has to be set out and collected up, and almost no effort on the ground to plan courses.
We conducted a trial of the app at last night's Cheltenham night street race, using the street race course as the MapRun course, and overall it proved a huge success. The idea now is to develop a programme of MapRun events to run alongside our other events, targeted at non-orienteers, and those of us looking for something different to do on training runs or whatever.
It is a tool for urban and suburban environments – it wont work in the forest – but for those it brings a number of advantages over our current street series events: It doesn't require special maps, so courses can be planned, as they for the current night street series, using Ollie O'Brien's Open Orienteering Maps, anywhere urban; courses can be planned almost wholly from your desk; and the phone app handles timing, scoring and results processing, so the planner/organiser has very little to do on the day.
We are not going to abandon our current event programme. We are going to look at the best way to exploit MapRun as a means of attracting active people who are looking for something new to try. You can expect to see some new events popping up in our already busy calendar very soon. Meanwhile, as taster of a new way of orienteering, the header picture for this post, and these images, show part of my run last night in Hatherley. As a non-smartphone savvy oldie I was impressed, and think it will be fun to use.