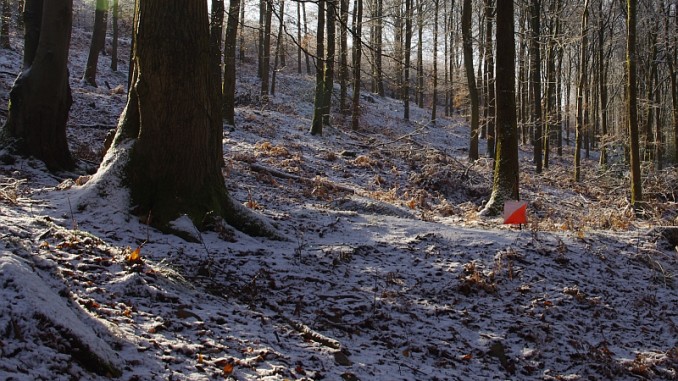 Date
Event
Signed From
Forest Entry
Organiser
Sat 25th Feb
Starts 11.00-13.00
Finish by 14:30
League 3
Highmeadow

SO572119
GL16 8RF

SO571126
GL16 8QX
Alan Pucill
Travel Directions and Parking
The event will be signed from SO572119 / GL16 8RF and forest entry is at SO571126 / GL16 8QX, about 200m south of the entrance to Bracelands campsite.
Registration is just over 1km along this track and drivers should take particular care as the route is used by pedestrians and cyclists. Parking is on the forest track and will be supervised.
Please follow the instructions given by the marshal.
Registration and Entry Fees
Registration open from 11am to 1pm. Entry on the day only: Seniors £5, Juniors £2.

Sportident electronic punching will be used. SI cards available for hire at Registration for £1 (Juniors free). Lost cards will be charged at £35.

NOTE: Courses will close at 2.30pm due to restricted daylight hours. Competitors on the longest courses should ensure that they start early enough to complete their runs before closure.
The Map
1:10,000, 5m contours, A4 size, pre-printed on waterproof paper. Control descriptions printed on front of map, loose descriptions also available at Registration. There is no Legend on the map.
Courses
Blue 5.9k, 300m climb, 16 controls
Green 4.3k, 200m climb, 12 controls
Orange 2.7k, 130m climb, 10 controls
Yellow 2.6k, 65m climb, 10 controls
The "Mr. Men" string course will be available, adjacent to registration.
Terrain
The terrain is a mix of coniferous and deciduous woodland with few open areas. Most is very runnable at this time of year, with little undergrowth. There are plenty of paths to aid relocation.

There is steep-sided valley through the middle of the courses and care should be taken on the slopes, especially if wet. On the blue and green courses there are some substantial cliffs which are clearly mapped and should be approached with caution.
Other Facilities
There are no toilets. The NGOC refreshment tent will be adjacent to registration.
Safety
Competitors take part at their own risk and are responsible for their own safety. Whistles compulsory for juniors and strongly advised for all. Please wear appropriate clothing and footwear for terrain and time of year.

Those who are not experienced at orienteering navigation are strongly advised not to attempt the Blue course, regardless of their running ability.

Competitors are advised that wild boar are present in the area. If you meet a boar please back away and run around to avoid confrontation.

Competitors are advised to be courteous to members of the general public that they may encounter on their courses, and on the parking track.
Organiser/Planner
Alan Pucill – alanpucill@gmail.com 01981 540701 07739 351458