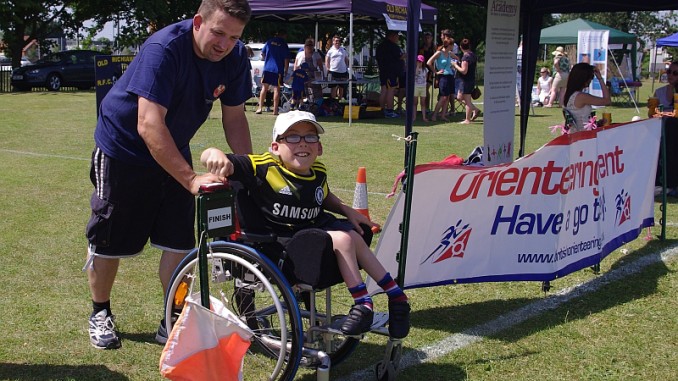 Training days offer a wide range of activities and courses for all, from complete beginners to experienced orienteers. They are non-competitive sessions where coaching is available at all standards for those who would like it, but it is not obligatory, and you can just turn up and do your own thing if you prefer. The NGOC cafe, offering hot drinks, cakes and snacks, is usually set up, and you are encouraged to make the trip a social as well as a physically and mentally challenging one.
Travel Directions and Parking
The event is signed from Blackpool Bridge (SO651086), off the Blakeney to Parkend Road. If approaching from East of the Severn, or the M4/South Wales, take the A48 from Gloucester or Chepstow. The Parkend turning is on the Southern outskirts of Blakeney. If approaching from the West, head for Parkend and then take the Blakeney Road. Blackpool Bridge is about 1 mile beyond Mallards Pike picnic rea. Forest Entry (here)(GL14 2UQ)( SO657098) is off the minor road from Blackpool Bridge to Soudley. Parking is on forest tracks, 1.5 km from the road entrance.
General Information
Orienteering Training for everyone, from experienced to novice.
Main theme of the session is accurate bearings. Details for each TD(Technical Difficulty, or skill level) are given below.
Registration from 10:30; activities and courses from 11:00 to 12:30. Courses close 14:00.
Entry: £5 Seniors (£6 for non-BOF members), £1 Juniors and full time students
SI Hire: £1 seniors, free for Juniors
Maps are A4 size, and may or may not be printed on waterproof paper; 1:10,000 scale. Please bring a map bag if you have one, just in case. We have limited spares.
Activities and Courses
Juniors and Novices (TD1-2)
Pacing Line
Nifty Numbers – cone activity suitable for the junior juniors
Simple path junctions (for beginners)
Just off the path – for orienteers to beginning to identify non path map features, eg platforms and depressions
White course – 1.5km
Yellow course 2.0km which can be shortened
Adults new to Orienteering, and older Juniors (TD 3)
Warm up Activity
Aiming off. Learn how to use a line feature to locate the control by 'aiming off'
Route choice activity building on activity 2
Orange Course 3.7 km which can be shortened
Light Green course. 4.5km
Experienced Orienteers (TD 4-5)
Warm up
White out. How good are your bearings and how accurate is your distance judgement/pacing? You'll discover trying this activity!
Route choices. A star based activity where orienteers are encouraged to try one route out and a different route back, comparing times
Corridor orienteering. Keep on an accurate bearing within a 100m corridor
Light Green course 4.5km 100m climb, Blue course 5.9km 205m climb, Short Brown course 7.8km 235m climb. Experienced orienteers are encouraged to use a pathless map
Coaching support will be offered at all levels or orienteers can turn up and design their own training format for the day.
Safety
Whistles are compulsory for juniors. Contact number 07789806529 in an emergency
The Start / Finish and assembly and junior activities are situated on Staple Edge Hill i.e. to the east of the N-S Soudley road. The area to the east of the map has been heavily mined in the past, resulting in large pits in places with steep slopes. TD1-3 activities avoid this area. There has been recent felling near to the start which has made the going difficult in places.
Safety bearing is South and East to the Parkend and Soudley roads, South and East also to the main forest track.
There are wild boar in the area, but they will seek to avoid you, and the first you see of them will typically be their rear ends heading off at speed. If you do surprise them, give them space and they will leave you alone.