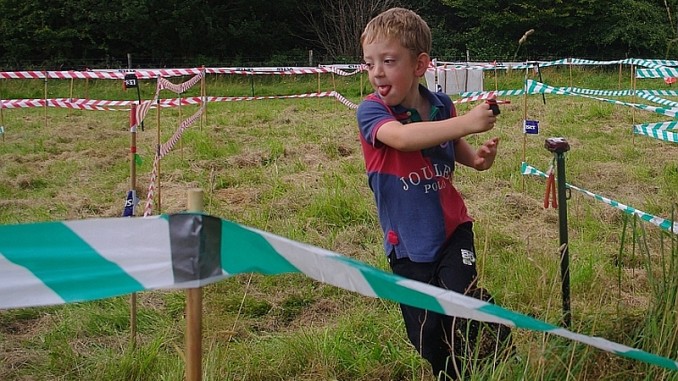 Date
Event
Signed From
Forest Entry
Organiser
sat 27 Jan
11:00-16:00
Training
Crickley Hill

SO935163
GL4 8JY

SO935163
GL4 8JY
Coaching team
During 2018 NGOC will be running our training events in two sessions:
Morning : White to Orange Course standard – Technical Difficulty (TD) L1-3
Afternoon: Senior and advanced orienteering techniques – TD 4 and 5
The morning session is primarily for beginners and the inexperienced, of any age. If you haven't tried orienteering, or have been to a couple of events and want to develop your basic skills, this is for you. In the afternoon we'll be offering exercises and coaching for those who already have a good grasp of the technicalities, but wish to improve on what they do already.
Crickley Hill is a country park of varied terrain, from escarpment slopes with good visibility for contour practice and estimation of height lost/ gained and distance to parkland with fine old trees offering a great opportunity to navigate from one tree to the next (correct) one. There is a good path network with open woodland interspersed with some thickets – great for vegetation boundary understanding.
Crickley Hill is also a nationally famous Iron Age Hill Fort site – well maintained ramparts with fabulous views.
Directions and Parking
Click on the icons in the table above to get maps and route finders. Essentially you head for the Air Balloon pub by the roundabout towards the top of Crickley Hill on the A417. If coming up the hill from Gloucester/Cheltenham, keep in the left lane and go straight on at the roundabout, then turn immediately left; the entrance to the country park is very soon after this turn, on your left. Coming down the hill from the Cirencester/Swindon direction, get in the right hand lane, go right at the roundabout and then immediately left.
Parking is in the small car park normally reserved for coaches, before you get to the main car parks. look out for Orienteering signs to take into this car park. You then have a walk of a few hundred metres to get to the meeting place for the training sessions…..follow the red and white marker tapes.
Training starts at 11:30, or 14:00 for the afternnon sessions, so we suggest you allow 15-20 minutes to park and sort yourselves out before walking down to the meeting place for the start time.
Morning Programme
11:30 – 13:00 TD(technical difficulty!) 1-3 – Juniors and improving adults. Great for families too.
Warm up – becoming familiar with the map and the area
Follow the line – taped course for beginners using linear off path features like gullies and vegetation boundaries
Tree Star – pick a control by a tree and go to it without being distracted by other trees with flags!
Tree Trot Maze– a simple course to navigate round from one control to the next
Yellow course – a TD2 standard course to try using all the above skills
13:00 – 14:00: Lunch – not provided by us, but there is a cafe near the main car park on Crickley Hill.
Afternoon Programme
14:00- 16:00: Senior/advanced training.
The emphasis here will be on speed and accuracy. This is designed for everyone wishing to move themselves up the club ranking and national ranking lists. Be wise – revise your nav skills regularly!
The format of the afternoon is that you are in control of your own training. Coaches won't start instructing experienced orienteers how to suck eggs. You will be offered a range of activities and you choose what to concentrate on and off you go. What we could all do to improve is taking stock of where our expertise needs working on – be it fine navigation, height/distance estimation, planning the next leg on the hoof..and so on.
Here's the menu for you to choose from:
Warm up : suggest tree maze – it's fun!
Relocation – a paired activity. Person A has a map, person B doesn't. Person A chooses a relocation control and navigates towards it, person B in tow. Person A is concentrating on navigation, person B is trying to take stock of map features they pass, how far they have gone and direction of travel. Person A navigates to anywhere within a marked area surrounding the control circle. The map is passed to person B who has to work out exactly where they are on the map using the terrain features they noticed on the way. Person B navigates successfully to control.
Corridor O . This is encouraging you to navigate across country rather than relying on paths. A narrow corridor 75-100 m wide is the only map information you will be given on the map and your challenge is to keep on the straight and narrow. For safety purposes the main road in and cliffs are left on.
L4-5 sprint – 23 controls in 3.7km. Draw together all your skills, speed up and dash round – will you be the quickest? OR you could run the sprint on a special no paths map – that would enhance the difficulty level for you and test your nav skills. OR you could run the course and leave your compass behind – you choose!
Fees
The cost will be £5 for seniors and £1 for juniors with a £1 charge for dibber hire (juniors free). Unfortunately we have to make a £35 charge for lost dibbers.
Western Night League
For those thinking about coming to training and then staying on for the night race, you will need to move your cars from the Crickley car park to the Air Balloon overflow car park before dusk, as the Country Park gates are locked then.