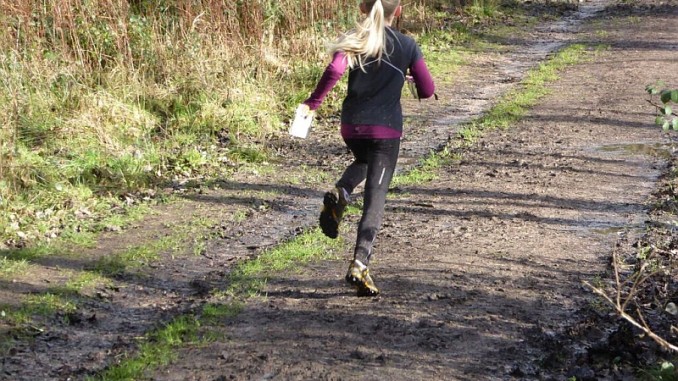 Date
Event
Signed From
Forest Entry
Organiser
Sat 10 Dec
Starts 11.00-13.00
Finish by 14.00
Training 4
Blakeney Hill

SO651086
GL15 4SL

SO656093
GL15 4AW
Coaching team
coaches@ngoc.org.uk
Training 4 takes place on the same area as, and uses some of the controls of, the 10 December Western Night League event. If you wish to run competitively in that event please do not come to the training day
Training days offer a wide range of activities and courses for all, from complete beginners to experienced orienteers. They are non-competitive sessions where coaching is available at all standards for those who would like it, but it is not obligatory, and you can just turn up and do your own thing if you prefer. The NGOC cafe, offering hot drinks, cakes and snacks, is usually set up, and you are encouraged to make the trip a social as well as a physically and mentally challenging one.
Complete beginners are very welcome to come and have a go. You don't have to run round; you can as fast or as slowly as you like. Nor do you need specialist clothing and equipment. It is very likely to be muddy in places, so walking boots or sturdy shoes are strongly recommended, plus of course warm and practical clothing. To help you follow the notes below, TD means technical Difficulty, and is measured for 1(complete beginner) to 5(experienced orienteer). Course are colour coded, ranging from White(easiest- TD1) to Brown/Black(hardest – TD5).
Travel Directions and Parking
The event is signed from the minor road junction on the Blakeney – Parkend road, just North of Wenchford picnic area. Take the turn under the bridge towards Soudley. About half a mile up the hill, turn right onto a forest track, beside a row of wheelie bins. Parking is on forest tracks, not far from the road entrance. Assembly is adjacent to Parking.
General Information
Orienteering Training for everyone, from experienced to novice.
This is a further 'step Up' session, with a series of exercises designed to help move up a technical level. Our aim is to set you a greater challenge than you typically meet at your current technical level. If you are already a TD5 runner, you can test your understanding of terrain with a brown only map, and your accuracy within the circle with some controls designed to catch out the lazy or unwary! You can find more on the available exercises below.
Registration from 10:30; activities and courses from 11:00 to 13:00. Courses close 14:00.
Entry: £5 Seniors (£6 for non-BOF members), £1 Juniors and full time students
SI Hire: £1 seniors, free for Juniors
Maps are A4 size, printed on waterproof paper; 1:10,000 scale. Control descriptions will be on the map, and available loose at registration.
Activities and Courses
Juniors and Novices (TD1-2)
1. Pacing line – always good to start off with and remind ourselves of distance
2. Naughty Numbers – practice a quicker change of direction
3. Non-path line features. Two yellow courses with legs following non-path line features such as ditches and vegetation boundaries. Suitable for those moving up from white, or still perhaps not too confident on yellow.
4. White course to warm up, or just for fun after a few exercises.
For orienteers between beginner and expert
1. Challenging yellow standard course to warm up
2. Short cuts. Easy Orange course, but with much longer path routes than direct ones, designed to encourage short cuts across country.
3. TD 3 going on 4. Annotated course designed to practise techniques such as aiming off, finding attack points, and long leg navigation. The map includes hints and tips for each leg.
For experienced orienteers
1. Lie of the land. A brown only map, with a course designed to be navigated by picturing the overall shape of the ground, and using that as your principal navigation technique. You may well need a compass, but should see how you get on without using it. Note that Blakeney Hill does not really have any detailed contour terrain; this is all about the big picture!
2. Accuracy in the circle. How many times have you mispunched a control near yours, or found no flag where you thought it should be? For this exercise there will be at least two SI units on features in or very close to the circle. Some will be on stakes, some on the ground, with no stake, but a prominent tag. The objective is to punch the correct SI unit, and to do so without dithering around in the circle.
3. Brown, Blue or Green Course. The Blue and Green courses will be sections of the Brown, with their own CDs, but using a brown course map. You can have a normal map, or a no paths one.
Coaching support will be offered at all levels or orienteers can turn up and design their own training format for the day.
Safety
Whistles are compulsory for juniors. Contact number 07789806529 in an emergency
There are wild boar in the area, but they will seek to avoid you, and the first you see of them will typically be their rear ends heading off at speed. If you do surprise them, give them space and they will leave you alone.
Forest operations are ongoing in parts of the event area, though the contractors will not be working during the event. Do not climb on timber stacks, or machinery, and ensure children in your care do not. There may be felled timber out on courses, as well as some brashings, but we hope these are not so extensive as to spoil your day. As work is currently ongoing we wont know until the day how good or bad things are, but from chatting to the contractors we don't think we will be too badly affected.