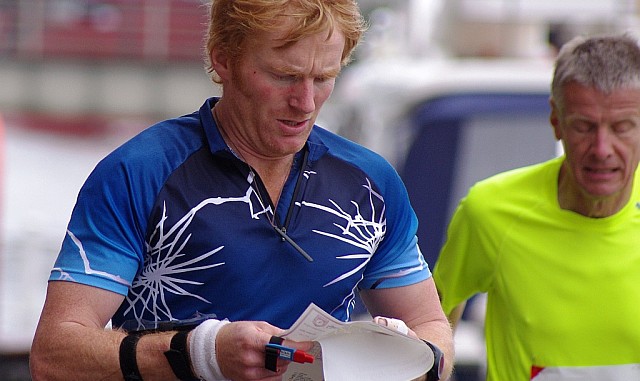 [Click the printer icon to print these details]
Date
Event
Signed From
Forest Entry
Organiser
Thu 13th Jul
Starts 18.00-19:00
Finish by 20:00
Urban 4
Abbeydale/Barnwood

SO860157
GL4 4BH

SO860159
GL4 4BL
Steve Lee
01453 886108
The Summer Street Challenge is a series of 5 Thursday evening races around the towns and suburbs of Gloucestershire. It offers courses of about 8K and 5K running distance, as well as a one-hour score course. If the area permits, there may also be a junior course of 1 – 2km, planned so as to avoid all roads.
This evening we are running on an updated version of Pat Macleod's Barnwood map which covers the mostly residential area between Barnwood Arboretum in the North and Abbeydale Sports and Community Centre in the South.
Travel Directions and Parking
Parking is at the Abbeydale Sports and Community Centre. Approach from the roundabout where Heron Way joins Abbeymead Avenue. From the roundabout turn towards the Morrisons supermarket, go straight on at the next roundabout and past the medical practice and animal hospital to the Community Centre. Parking is free.
From the South, exit at J12 on the M5 and follow directions https://goo.gl/maps/bwXBHNaHazp
From the North exit at J11 on the M5 and follow directions https://goo.gl/maps/AZZeMZ6oeou
Registration and start will be from a car parked at the East end of the car park.
The Map
Broadly ISSOM spec, mapped by Pat Macleod in 2012/13 but with some recent updates. It is A3 size, printed on waterproof paper at a scale of 1: 5,000. Other than a reminder of forbidden access and not to be crossed items, there is no legend on the map. Control Descriptions will be printed on the map.
Note that the map is oriented so that North is the top left corner of the map and grid lines run diagonally.
Terrain
Standard urban with suburban housing, parkland and recreational woodland. There may be brambles and nettles in some open areas. The area is crossed by several large roads. Runners must take particular care crossing these.
Courses
We will use SportIdent(SI) electronic timing. You can hire a timing chip if you do not have your own. Controls will be secured to fixed objects, and represented by a small plate about 6 x 8 inches in size, bearing the O-flag and the control number. The SI unit will be attached to the plate or adjacent to it. Controls will not be marked with the standard kite.
Long     5.7 km straight line, about 8.3km optimum route and 50m climb
Short     3.7 km straight line, about 5.7 km optimum route and 40m climb
Junior 1.1 km straight line, about 1.2 km optimum route and no climb
1-hour Score
The Junior course is contained entirely within the Glevum Way Park and is suitable for unaccompanied under 16 years old runners. The course standard is tricky yellow/easy orange, with controls secured to fixed objects. The course does not cross any roads but there are a number of shallow streams in the area which should only be crossed via bridges. Young children should be accompanied by an adult.
All other courses cross residential roads, and also the main streets through the town, in various places. Runners under 16 years of age may not run these courses unless accompanied by an adult.
Registration and Start Times
Registration and starts: 18:00 – 19:00. You may start as soon as you are ready after registering.
Courses close 20:00, meaning that you must report back to the Finish by 20:00 at the latest, regardless of whether you have finished your course or not.
Fees: Seniors £5, plus £1 timing chip hire if required. Juniors £2, timing chip hire free.
Lost timing chips will be charged at £35.
Facilities
There are toilets in the Community Centre, as well as a bar for your post run analysis and recovery.
Safety
Competitors should be aware of, and courteous towards, other pedestrians particularly in narrow alleys and around blind corners. Competitors must be aware of traffic and take care when crossing roads. Unfortunately, competitors aged under 16 may not enter a Long, Short or Score course unless accompanied by an adult.
Please do not forget to download.
Queries, and More Information
Please contact Steve Lee on 07474 647674 if you have any queries about this event.