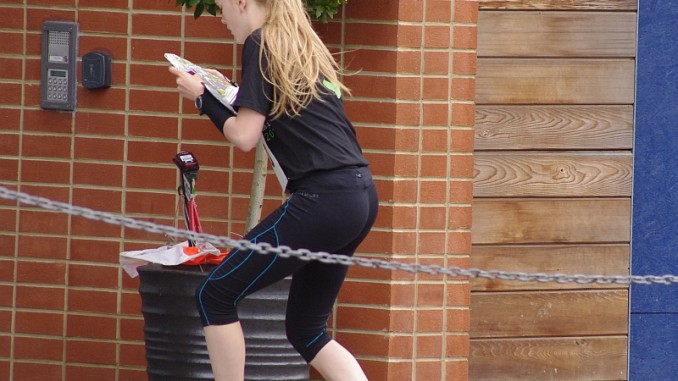 [Click the printer icon to print these details]
Date
Event
Signed From
Meet at
Organiser
Thu 1 Jun
Start 18.00-19.00
Finish by 20.00
Summer Evening
Lydney

SO638025
GL15 5PT

SO637025
GL15 5RH
Stephen Robinson
01594 841743
The Summer Street Challenge is a series of 5 Thursday evening races around the towns and suburbs of Gloucestershire. It offers courses of about 8K and 5K running distance, as well as a one hour score course. If the area permits, there may also be a junior course of 1 – 2km, planned so as to avoid all roads.
The first street challenge of 2017 takes place in Lydney, on an recently updated version of Richard Cronin's map.
Travel Directions and Parking
Parking and Assembly are in the public parking area adjacent to Lydney Boating Lake.
If you are approaching from Gloucester/Cheltenham, or all points North and North East, take the turn into Lydney at the Northern end of the Lydney by-pass. As you get to the bottom of the long hill down into the town, turn left at the cross-roads. Go past the bus station, and continue along the road until you see an O sign at the end of Lakeside Gardens. This is a narrow residential road with lots of parked cars.
If approaching from the Chepstow and the South, take the road into Lydney at the roundabout by Taurus Crafts, and go right through the town to the cross roads at the far end of the shops, at the bottom of Highfield Hill. Turn right, go past the bus station, and continue along the road until you see an O sign at the end of Lakeside Gardens. This is a narrow residential road with lots of parked cars.
Parking is free. There are no toilets near the parking/assembly. The nearest ones are in the main town car park. To reach this, rather than turning left/right at the bottom of Highfield Hill, at the end of the main street, towards the bus station and event, turn the opposite way, and the town car park is 50m up Albert Street on the left.
The Map
The map is an ISSOM map surveyed and drawn by Richard Cronin in 2014, but with recent updates as required for this race. It is A3 size, printed on waterproof paper at a scale of 1:5,000. Please note that under ISSOM rules thick black and dark green lines represent features that MUST NOT BE CROSSED.
Courses
We will use SportIdent(SI) electronic timing. You can hire a timing chip if you do not have your own. Controls will be secured to fixed objects, and represented by a small plate about 6 x 8 inches in size, bearing the O-flag and the control number. The SI unit will be attached to the plate or adjacent to it. Controls will not be marked with the standard kite.
The following courses will be available:
Long 5.7Km straight line, about 8km optimum route
Short 4Km straight line, about 5km optimum route
1 hour Score
Junior 2Km straight line, about 2.5km optimum route
The Junior course is contained entirely within the pedestrianised recreation ground and boating lake area, and is suitable for unaccompanied under 16 years old runners. The course standard is tricky yellow/easy orange. All other courses cross residential roads, and also the main street through the town, in various places. Runners under 16 years of age may not run these courses unless accompanied by an adult.
Safety
As stated above all courses except the Junior cross main roads. Traffic is not usually heavy in Lydney during the evening, but runners must take particular care when crossing all roads.
The Dean Forest Railway track is out of bounds and may not be crossed except at recognised road crossings, even though access may be physically possible in places. Please abide by out of bounds and forbidden route markings on your map. There is a possibility of shunting operations on the track during the evening, but runners are very unlikely to be held up at level crossings.
Courses also visit areas of sheltered housing. In these in particular, but also generally throughout the town, please take care when running along narrow walkways, and when emerging from these around blind corners. Be courteous to other pedestrians and respect private areas.
Timings and Fees
Registration and starts: 18:00 – 19:00. You may start as soon as you are ready after registering.
Courses close 20:00, meaning that you must report back to the Finish by 20:00 at the latest, regardless of whether you have finished your course or not.
Fees: Seniors £5, plus £1 timing chip hire if required. Juniors £2, timing chip hire free.
Lost timing chips will be charged at £35.
Queries, and More Information
Please contact Stephen Robinson on 01594 841743 if you have any queries about this event.