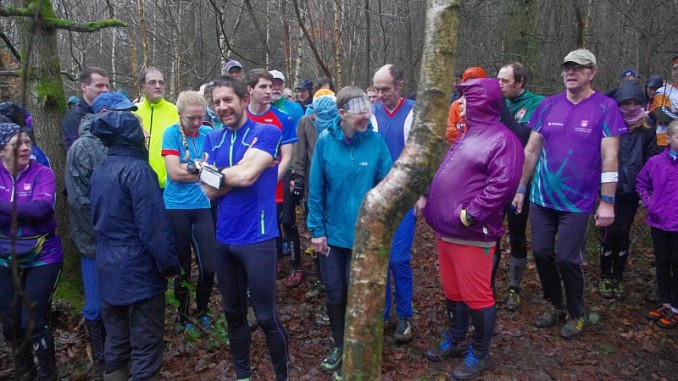 Click here to download a copy of these details in PDF format
Date
Event
Signed From
Event Entry/Meet at
Organiser
Mon 1st Jan
Mass start 11:00
New Year's Day Score
Kidnalls

SO624050
GL15 4RE

SO624050
GL15 4RE
Kim Liggett
01594 839341
Directions and Parking
The forest entry is off the Lydney-Whitecroft road, about 1.5 miles from the turn towards Whitecroft/Parkend in Lydney, or 1 mile from the level crossing in Whitecroft. Note that drivers approaching from Whitecroft will need to execute a very sharp left turn onto the forest track. Parking is on the forest track about 1 mile from the forest entry.
Event Format
The New Year's Day Score is a fun 60 minute score. There are 24 controls worth from 10 to 50 points, with a generous 660 points to be gathered in all. It's a compact area, so apart from the 60 minute time limit, there is a further simple rule to be applied to your route planning: you must choose to collect odd- or even-numbered controls first, and then when you have exhausted your options with that range of control numbers, you switch to the other range. So if you start with even numbers, for example, you visit as many of these as you wish, and then can switch to the odd numbers. You can only switch once; the first control you punch with a different number series(odd or even) to those you have already punched will be your 'switch' control, and you will not score any points for any controls of the former series punched therefater.
Time penalties accrue at a rate of 10 points per minute or part minute over 60 minutes. There are no penalties for controls punched out of sequence, but no points either.
The Map
The Kidnalls map is a little long in the tooth, but has been partially migrated to the new ISOM 2017 mapping standard. Partially in that the new symbology and grid line spacing(300m rather than 250m) has been applied, but more detailed aspects of the change in the standard, such as the minimum separation distance between features, have not yet been applied. The main change you will notice is the use of the new open brown triangle for platforms, or land form features as the ISOM standard would have it. The platforms have been converted to the new symbol, but are not yet rotated to North as the new standard requires.
Timings and Fees
Registration opens at 10:15.
There will be a mass start at 11:00.
Fees: Seniors £5; Juniors £2. Dibber hire: Seniors £1, Juniors free.
Safety
The courses crosses no roads, and may be run by unaccompanied juniors. Any juniors or inexperienced seniors wishing to run a course of roughly yellow standard should make this known at registration, where you will be given a list of controls which comprise such a course, and may mark up your map accordingly before starting.
If the weather is wet in the run up to the event some paths may be very muddy and slippery. Otherwise, the map shows a significant coverage of undergrowth screen, and you should be prepared for brambles etc off-path, and along some of the smaller ones.
There may be dog walkers and horse riders in the area; treat them with normal courtesy and respect.
Organiser
Kim Liggett: 01594 839341