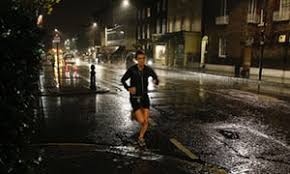 As an experiment for Winter 2017/2018 we will be introducing a new series of mid-week Night Street Races, centred on Cheltenham and Gloucester. These will be very informal when compared against our other races as there will be no actual controls or formal timing. We will be using simplified maps, based on OpenStreetMap extracts – see www.oomap.co.uk
We will be offering a single score course at each race, and all control checkpoints will be lamp-posts, fire-hydrants or similar – and to prove you have visited you must note down the appropriate number. All runners will start at the same time, and so *should* finish together – meaning competitors and organiser can all retire to a nearby pub in good time! Results will be released a few days after the race; there *may* be some ad-hoc Easter themed edible prizes for overall series and handicap winners at the final race

Key points:
Register from 6.40pm
Mass start 7pm. 60-minute time limit, severe penalties if back late!
£3 entry fee.
Torch (and spare torch) compulsory – it will be dark. Wear light and/or reflective clothing in order to be visible; the organiser may refuse to let you compete if not dressed appropriately.
Bring your own pen and map bag; maps may not be waterproof.
See the event calendar and lists for dates and venues.