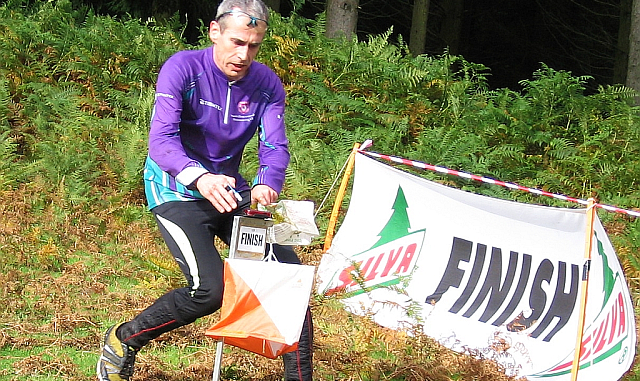 [Click the printer icon to print these details]
Date
Event
Signed From
Forest Entry
Organiser
Sat 14th Oct
Starts 11.30-13.30
Finish by 15:00
League 10
Danby Lodge

SO636077
GL15 4TG

SO636077
GL15 4TG
Joe Parkinson
07777 652633
Travel Directions and Parking
The Signed From location and Forest Entry are co-located just outside Yorkley on the Parkend Road. Use the icons above to get directions and route options.
Parking is on a level forest track. Assembly is about 3/4 of a mile along this track, with parking backing up from Assembly towards the forest entry. The exit is back the way you came in but the the track is wide enough to pass in many places.
The Start is 250m from Assembly. The Finish is 100m beyond the Start, around 350m from Assembly/Download.
Terrain
We are using the Eastern most part of Danby Lodge which is a mixed deciduous and coniferous forest. Generally runnable with some patches of brambles/bracken. A steep escarpment runs North to South. There are some detailed contour features from old mining activities.
The Map
1:10,000, printed on waterproof paper, with control descriptions on the map and available loose at registration.
Courses
The usual courses will be available:
Yellow: 2.5km 50m climb 9 controls
Orange 3.1km 110m climb 9 controls
Green 4.5km 120m climb 11 controls
Blue 6.9km 190m climb 14 controls
Subject to confirmation on ground suitability, there will be a string course, and possibly an off-string course, very close to Assembly. Details will be confirmed shortly.
Registration and Entry Fees
Registration and starts: 11:30 – 13:30
Course closes: 15:00
Fees: Seniors £5, or £6 if not a member of British Orienteering, with SI hire £1.
Juniors £2, with free SI hire.
Other Facilities
The NGOC cafe will be present.
Safety
Horse Riders use the area. Please be aware of riders and keep give them space to pass.
Take care on steep slopes and near crags.
Organiser/Planner
Joe Parkinson 07777 652633