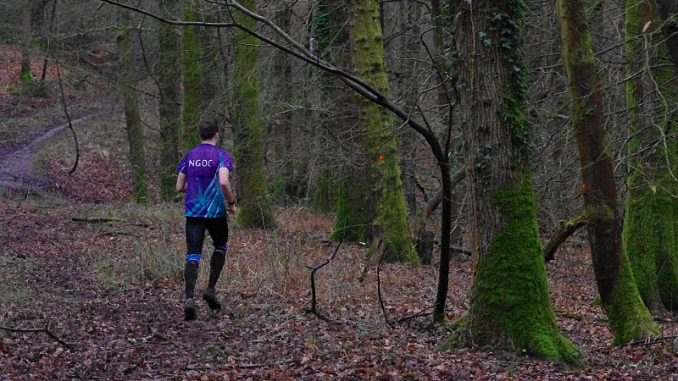 Date
Event
Signed From
Forest Entry
Organiser
Sat 12th Aug
Registration 11.00-12.30
Finish Race 1 by 13:15
Allocated start times for Race 2
Finish Race 2 by 15.30
League 7
The Sylvan Sprint
Knockalls Enclosure

SO549125
GL16 8NX

SO549116
Postcode unhelpful
Paul Taunton
01594 529455
Version dated 10 August 2017 – There should not be any further changes to these details.
Welcome to the NGOC League 7 event at Knockalls, near Staunton, rescheduled because of environmental restrictions. This event is NOT in the normal NGOC League format, so please read these details. The event will be a sprint format, with everybody having two relatively short races (estimated winning times circa 15 minutes each). Full leg cover is required!
Acknowledgements
NGOC acknowledges the kind permission of the Forestry Commission for use of this area.
Travel Directions and Parking
Competitors coming from East of the Severn should note that the old Severn bridge is closed in both directions all day on Saturday 12 August. You should allow an addtional 15-20 minutes journey time when travelling via the Second Severn Crossing.
Please approach the event from the A4136 at Staunton, then take the minor road southwards, towards Newland.
If approaching from the East – on the A4136 from Coleford/Berry Hill/Gloucester – bear left opposite the church as you arrive in Staunton village. Take the narrow lane down into the heart of the village and turn left just beyond the small village green.
If approaching from the West – on the A4136 from Monmouth – turn right just past the White Horse pub as you enter the village, follow the lane round to the left, and turn right after 200m.
You are strongly advised not to approach Staunton from the south – from Redbrook, Newland, or the back road from Coleford. One of the two lanes shown on current Ordnance Survey maps is permanently closed and the turn into the forest from the other is too sharp to negotiate without causing delays to event traffic. Note that some internet mapping shows the closed road as useable, and the actual road as a forest track!
Heavy vehicles using the access track have damaged the edge of the tarmac road surface at two locations about 100m inside the first Forestry Commission barrier. We intend to improve these potholes beforehand, but please take care on this section!
Parking is on a forest track, as used previously. Drivers must keep to the Forestry Commission limit of 15mph and look out for mountain bikes crossing the parking track at speed, on a fast, downhill (unofficial) bike path.
Registration will be located at the northwest end of the parking track.
Please do not try to leave the parking area between Race 1 and Race 2, as the access road has no good passing places.
Entry Fees
Entry on the day only: Seniors £5, (£6 for non-BOF members), Juniors £2.
Sportident electronic punching will be used. (NOT TOUCH FREE). Standard SI cards available for hire at Registration for £1 (Juniors free). Lost cards will be charged at £35.
Event Format and Timings
Registration: from 11:00 to 12:30
Sprint courses will be available to fit in with the four usual NGOC league event classes. All courses for both Race 1 and Race 2 will use the same start and finish which are adjacent to each other, an approximate 600m rough walk (40m uphill) from assembly (please allow 15 minutes).
Courses
Courses are now finalised, as follows:
Blue 1: 2.0km, 105m climb, 19 controls. Blue 2: 1.9km, 115m climb, 20 controls
Green 1: 1.7km, 90m climb, 19 controls. Green 2: 1.8km, 100m climb, 18 controls
Orange 1: 1.4km, 65m climb, 13 controls. Orange 2: 1.4km, 75m climb, 17 controls
Yellow 1: 1.3km, 50m climb, 11 controls. Yellow 2: 1.4km, 50m climb, 12 controls
Under 16s may run any class, as there are no public roads nearby.
Yellow Courses
All eight courses are located within the same small competition area and, despite there being 56 controls, a few controls on the Yellow courses are also used by other courses. Consequently, for fairness to other senior competitors, parents are requested to complete their own first race BEFORE assisting any juniors. After Race 1 all competitors will have explored much of the competition area, so no such restriction applies to Race 2.
The Yellow course maps will be handed out AT THE START. Control sites on the Yellow courses are not generally "path junction" but are instead OBVIOUS features that are clearly visible from the route. Parents will need to explain that for a few control sites such as large boulders the control flag will NOT be visible as they approach, but it WILL be clearly visible from a point on the path immediately adjacent to the feature.
Routes on the Yellow courses are almost all along paths, but on Yellow 1 some legs will follow a ruined wall. On Yellow 2, two controls sited about 30m apart along a vegetation boundary are used to cross a 50m distance from one obvious path to another. Some smiley/sad faces will be placed to assist runners on the Yellow courses.
Race 1 starts 11:15 to 12:45. Courses close: 13:15. It is recommended that, to give a sensible interval between the two races, slower runners should start Race 1 early in the start block, whilst faster runners should start later. Please start early if you expect to take more than 30 minutes.
It is presently anticipated that the winners of Race 1 will start Race 2 at 14.45, with other finishers starting earlier at 1 minute intervals, allocated in reverse order of Race 1 results, i.e. the slowest runners will start first. Any competitors recorded as "dns", "mp", "dsq" etc for Race 1 will start first of all. Please ensure you allow sufficient time to reach the start before your allocated time. Courses close 15.30.
Start times/intervals for Race 2 may need to be adjusted on the day, dependent upon the number of entries and actual finishing times.
The results for Race 1 and Race 2 will be published separately, but your League score will be based upon your total time for the two races.
Facilities
Runners should bring water with them for pre and post race drinks.
The NGOC cafe will be present for socializing between your two runs. Apart from the usual drinks and snacks, an extended range of food, including sandwiches, DIY rolls, mini scotch eggs and sausage rolls will be available at a very modest extra cost. Thank you to all who took the trouble to complete our short poll to assess demand for this.
The "Mr. Men" string course will be available. The string course will be accessed from the parking track at a point about 400m before you reach assembly/registration. Take care as bikes may use the same path.
The Map
Scale 1:4,000, with 5m contours printed on A4 waterproof paper. (An enlarged extract of the 1:10,000 forest map used for previous events at Knockalls with minor updates NOT a special sprint map). Control descriptions are both printed on the map and available loose at the start. There is no Legend on the map.
All maps will be collected at the Finish of Race 1.
The unofficial bike tracks are very changeable dependent upon use and there may be some that are not mapped.
Terrain and courses
Much of the terrain on and adjacent to the walk to the start is heavily overgrown with bramble, but the start and finish are located on the edge of what is generally a pleasant runnable area of forest. Space at the start and finish is very limited indeed. It is recommended that you check how long it takes you to reach the start for Race 1 and then ensure that you arrive at the start for Race 2 just a couple of minutes before your allocated start time.
The competition area is complex, with numerous large individual boulders, small crags and charcoal burning platforms. Small boulders are not generally mapped except as rocky areas. Most of the area is runnable open deciduous forest, but there are some areas of brambles particularly along the tracks around the perimeter of the area, and some tall bracken in the small open areas. The vegetation screen on the map has been updated to show runnability, as at early July. Note that sparse bracken and low bramble that does not affect running speed is NOT indicated on the map.
The density of controls in the competition area will be very high, as there will be about twice as many controls as are used for a typical league event, within an area occupying less than 10% of the Knockalls map. The minimum control separation will be 15m (or 30m for controls on similar features). The principal challenge will be precise navigation leading to the correct control, of several that you may be able to see.
Any very fast runners with SI-air dibbers should ensure that they punch correctly at closely spaced controls – these dibbers will flash and beep for several seconds after punching a control AND CANNOT REGISTER ANOTHER CONTROL DURING THIS PERIOD.
Safety
You must comply with the Forestry Commission restrictions which do not permit smoking and the lighting of fires.
Competitors take part at their own risk and are responsible for their own safety.
A copy of the risk assessment will be available at registration. It is expected that the nearest minor injuries unit at the Dilke Hospital will be closed on the date of the event. The risk assessment will confirm the location of the nearest open minor injuries unit, which is likely to be that at Lydney.
A whistle is compulsory for juniors and advised for seniors.
It is possible that you may encounter mountain bikers on some trails in the forest. Be particularly aware if following paths which are obviously mountain bike trails. Knockalls is not an approved mountain bike area, and bikers should not be riding off the hard tracks, but don't invite confrontation.
There is some possibility that you encounter wild boar during your run. They will generally seek to avoid confrontation with humans, and will move away if given space and the opportunity to do so.
It is essential that runners report to download, even if retiring, this will ensure we can check you have returned safely. Competitors travelling alone are encouraged to leave a set of keys at registration.
Dogs
Dogs are permitted on leads in the car park and assembly area. Dogs are also allowed on courses during Race 1, as long as they are kept under close control. Please do not take your dog on the course for Race 2 as the reverse order start should lead to some close racing and possibly a mass finish, where dogs could unfairly impede runners.
Organiser/Planner
Paul Taunton – paul.taunton@tesco.net; 01594 529455.