So you want to know what this orienteering thing is all about?
Well….. the basic idea is to navigate your way around a course, most often in the woods, but also in parks and open rugged countryside, using a specially drawn map which shows features such as streams, fences, boulders and crags. You have to start at the Start (!), finish at the Finish (!!) and visit a series of control points along the way, but it's entirely up to you how you get from point to point and whether you run hell for leather or bimble round with the kids and dog and have a picnic en route. If you like treasure hunts and the outdoors then give it a go.
Either read on or look at these video links for a visual explanation…..
British Orienteering's video The Adventure Sport for All
A good video for children made by Alex, aged 11 Orienteering for beginners
An elite competitor's view of orienteering The Orienteering Adventure
Where do events take place and how to find them?
Our fixtures list shows what's happening where and when.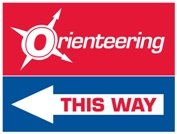 To help you find the event, there is an Ordnance Survey grid reference which indicates the road junction from where the event is signposted. You can also click on the Google or streetmap links to see a map showing that location. When you arrive there, you will see red and white orienteering signs like this to show you the way to the event carpark.
What to bring?
Trainers or lightweight boots and tracksuit bottoms or similar that you don't mind getting a bit mucky; a large clear plastic bag to put your map in (although most of our events use waterproof paper these days); a compass if you have one for orientating the map although this is not essential on beginners courses; a drink/snack for afterwards; a few £s to pay for your map.
What to expect at your first event….

Having parked, look out for a queue of people by a car or tent waiting to register. You'll be asked for your name (so we can keep track of who's out there and the time taken for keen competitors) and which course you want to try. Don't be afraid to ask advice about which course is the best for you. To begin with try the yellow/orange courses as they are based on tracks or other linear features such as walls. Yellow is suitable for children and timid adults, while Orange is perfect for confident adult beginners. Eventually you'll work up to a light green and beyond where things start to get a bit more technical. You'll be issued with a map, a set of control descriptions and usually an electronic timing device called a dibber.

The map … will look a little strange at first with colours and symbols that might as well be hieroglyphics, but you should be able to recognise tracks, paths, streams and contours. There should be a legend printed down the side to explain the other features but for beginners courses you'll be using linear features so make sure you know what a track, path, stream, fence and a wall look like and forget about the rest for the time being. The other thing you should note about your map is the scale – most of our events use 1:10,000 scale maps to get the necessary detail in. That means that 1cm on the map represents 100m on the ground. Imagine what the 100m dash looked like on the school playing field and that should help you judge the distance you need to go between controls. Some maps, particularly urban parks use a larger scale, perhaps 1 :5000.
For a full list of symbols used on orienteering maps click here.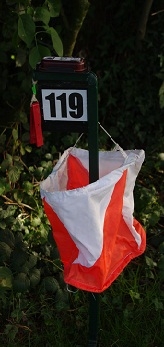 The control descriptions…. will show a list of controls and you must visit them in that order. Control sites are marked by special orange and white "kites" to make them easier to spot at a distance. Each control on the list will have a number or letter code next to it. When you actually reach that control, it will have a code physically attached to it so you know you've got the right one. The list also gives a brief description of the feature that you're looking for, e.g. path/stream junction, fence bend, to help you home in on it once you're in the right area on the map. Sometimes the descriptions are written in plain English, but at some events, they are in the form of a pictorial code – just ask someone for a translation.
To understand the pictorial descriptions, click here.
The dibber…. should be attached to your finger using the strap. Every time you get to a control, including the Start and Finish, place the dibber into hole on the electronic unit. Make sure that the unit flashes. Before the Start, you will have to clear any previous timing held in your dibber at the Clear station. Again, don't be afraid to ask for help on the use of these – there is always someone hanging around to help beginners.
Starts…. generally you can start whenever you like after you have registered and got your dibber. However, there will be a last start cutoff time and also a time when all courses close, as obviously the people organising would like to get home sometime the same day! If you want you can leave your car keys at registration before setting off.
Finish…. once you've punched the Finish control, go to the download point (often the same place as registration) and hand in your dibber. You will be given your time on a slip of paper which also shows how long it took you between each control. IMPORTANT – Even if you don't finish your course, you must still go to download to hand in your dibber – this is the only method we have of knowing that you're back safe and sound and we don't need to call out International Rescue !
FAQs
What should I wear?
A pair of trainers or lightweight boots and jogging bottoms or similar will do fine to begin with. You might also want to bring a light cagoule if it looks like rain and something to change into afterwards as it can be a bit muddy at any time of year.
Do I need to know how to use a map and compass?
A rough idea of what North is all about should be more than enough. Although we use compasses, we don't take bearings the same way as hillwalkers do – rather we use the compass to make sure that the map is orientated correctly relative to North as there are special lines on an orienteering map that represent magnetic North. Ask for a lesson on how to do this when you register. A compass is not really necessary for the beginners courses (White, Yellow, Orange).
Who can take part?
Pretty well anybody can take part in normal orienteering events – there is usually a short course of 1km or so on main paths aimed at kids plus a series of courses getting progressively longer and more technical. We have a couple of ladies who manage to get round quite rough stuff with the aid of sticks and although not as fast as they used to be they still enjoy the navigational challenge.
Is it really competitive?
Yes and No! If you find that you and orienteering click, you can progress to the level where you compete nationally or even internationally. On the other hand, many of our members are more than happy to take part for the simple pleasure of being outdoors and getting a bit of exercise both physically and mentally.
How much does it cost?
Local events typically cost £2-5 per adult per course or £1 for juniors. If you do not have your own dibber you can hire one for £1-2, or free of chrge for juniors. The larger events cost more (but if you join the club you get a discount.) Entry fees are usually advertised in the event details. If you want to join NGOC then there is a small annual fee – check the Membership page for current fees.
Is it always the same kind of courses described here?
Generally, yes, but there are other variations on the theme such as Night-O, relays or Score events where you have a time limit in which to find as many controls as you can in any order you like. There are long distance events, mountain bike O, park races, street events and Trail-O for disabled people.
 Can I practise anywhere else apart from the organised events?
There are a few Permanent Orienteering Courses (POCs) in the area where you can practice any time you wish. You can see a map showing their locations here
 Where can I look up all these new terms and abbreviations I keep coming across?
Like most sports, there is plenty of jargon – British Orienteering jargon buster
Read more about it….
Oli Johnson is one of Britain's top orienteers. Read Oli's Beginners Guide